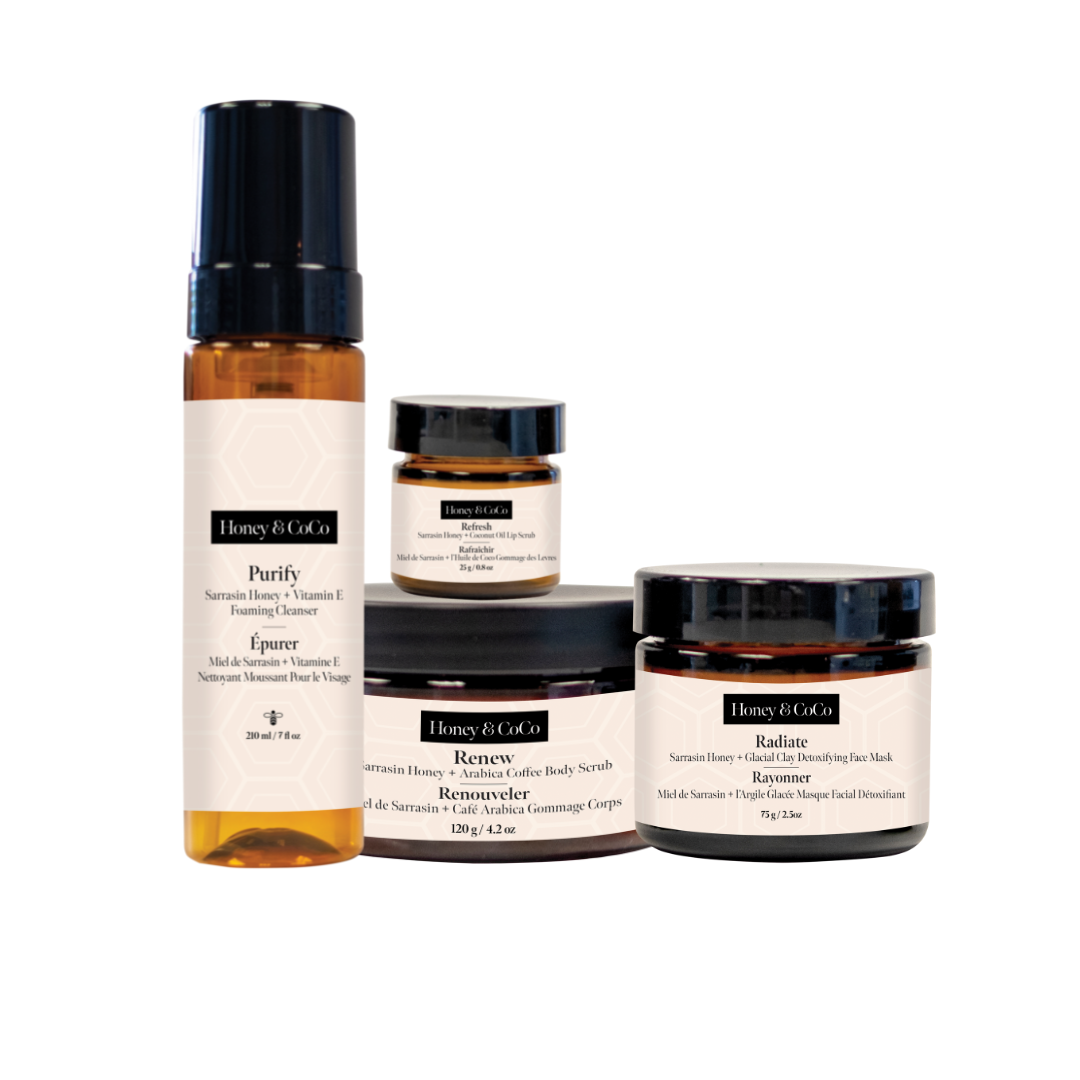 Detox your skin with H&CC Skin Detox Bundle!
How do you know when it's time for a Skin Detox? If your skin looks like its lost its natural glow, is feeling heavy, or super dry or oily, it's time for our Skin Detox Bundle.
Why Detox your skin? Our mindfully crafted products help with three things: (1) Cleansing, and removing excess oil and dead skin cells which could block pores, (2) Restoring your skin's elasticity by stimulating internal, natural collagen production and (3) Extracting positively-charged environmental toxins that weigh on your skin.

This bundle contains:
1. PURIFY, our Sarrasin Honey + Vitamin E lightweight, foaming cleanser. Ideal for all skin types, PURIFY gently removes excess oil, skin impurities and makeup, leaving your skin feeling both clean and hydrated.

2. RADIATE, our Sarrasin Honey + Glacial Clay Detoxifying Face Mask, elevates the functional action of a clay face mask for the face by combining it with the healing and nourishing power of Sarrasin Honey. RADIATE natural face mask will leave your skin feeling physically lighter and prepared for restorative, nourishing and moisturizing
3. RENEW, our Sarrasin Honey + Arabica Coffee body scrub, was created to breathe new life into your skin. The nourishing effect of the honey mixed with the energizing action of caffeine and the exfoliating action of pure coffee grounds will leave your skin feeling spa-fresh.
4. REFRESH Lip Scrub: Granulated Sarrasin Honey + Coconut Oil lip scrub and lip exfoliator is perfect to remove lipstick, buff, polish and refresh your lips.