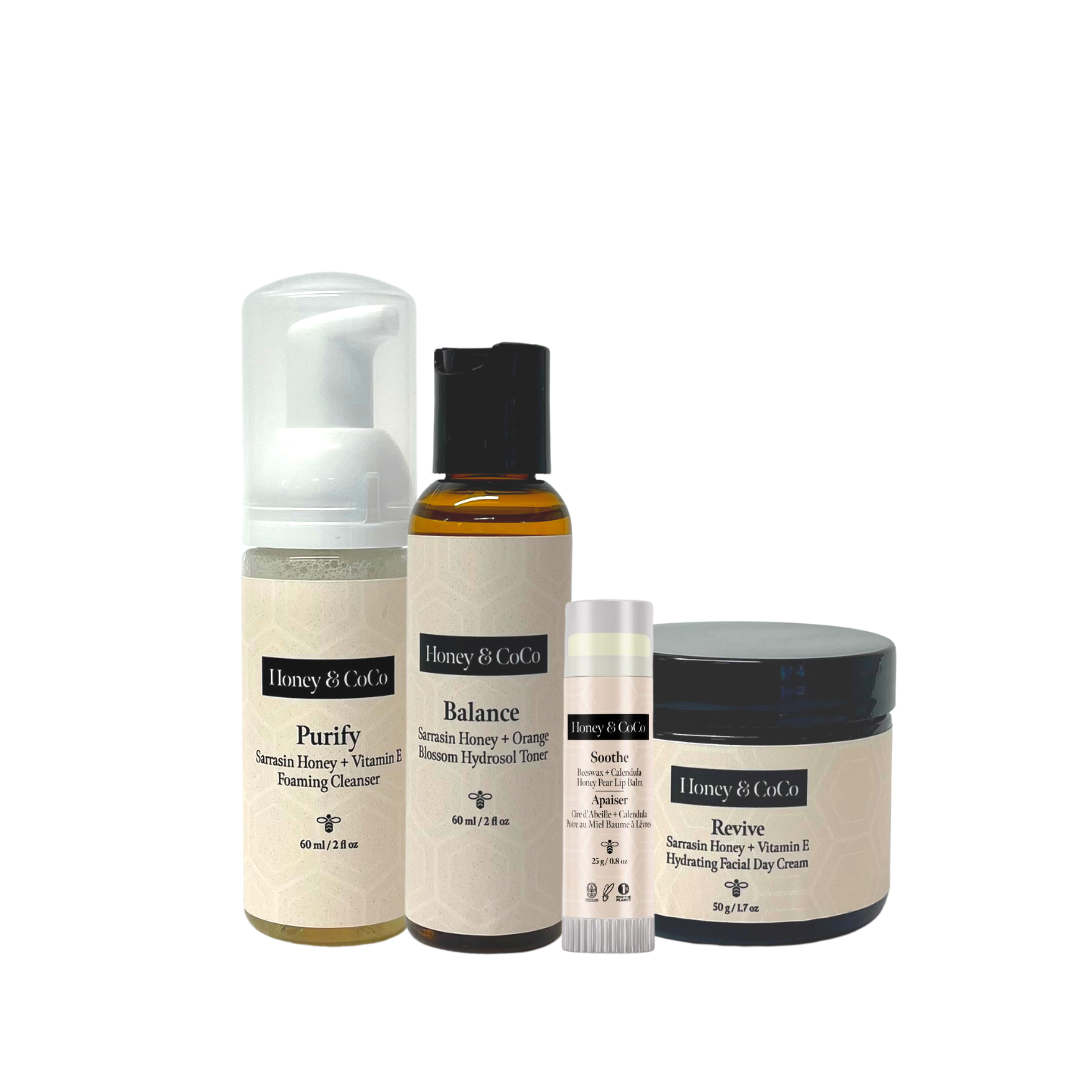 Bring your skincare with you wherever you go!
Planning for some fun in the sun? Or heading to the slopes? No matter experienced the traveler is, strategically packing for trips is rarely easy, so we've simplified it with our Honey & CoCo Essential Travel Bundle.
This bundle packs the essential parts of any skincare routine in to travel-sized so you can take it with you, on board, wherever you go! This powerful pack of products can be used in so many different ways! We love it to refresh ourselves during long layovers or between flights or after a day in the sun, our mindfully crafted Toner and Day Cream can help calm and soothe skinburned or wind-burned skin.
So wherever your destination, no matter how incredible it is, we're here to simplify your skincare everywhere you go! 
This bundle contains:
1. PURIFY, our Sarrasin Honey + Vitamin E lightweight, foaming cleanser. Ideal for all skin types, PURIFY gently removes excess oil, skin impurities and makeup, leaving your skin feeling both clean and hydrated.

2. BALANCE, our Sarrasin Honey + Orange Blossom Hydrosol natural clean witch hazel toner for face, penetrates the surface layer of your skin to provide pH and osmotic balance. leaving Leaves your face feeling toned, tight and visibly brighter.

3. REVIVE, our Sarrasin Honey + Vitamin E Facial Day Cream was designed to provide all day hydration to your skin, without impeding with applying makeup. It is specially formulated to absorb quickly, and to lighten skin.

4. SOOTHE is perfect for keeping your lips soft, fresh and full of life. A deeply hydrating lip balm made with calendula, beeswax and honey pears.