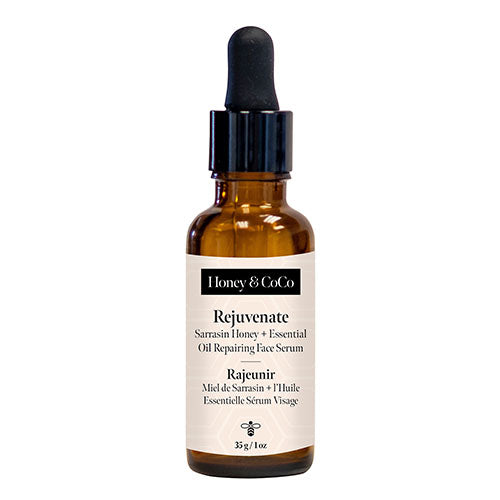 About Our Honey Face Serum - Nourish Your Skin
REJUVENATE, our Sarrasin Honey + Essential Oil Face Serum, is like finding the fountain of youth. Regular application of this honey face serum will leave your skin feeling hydrated and nourished while reducing the look of wrinkles and dry skin.


Warm a few drops of face serum oil into your hands before gently pressing onto the face and massaging into skin. Our clean and natural face serum can also be used as a spot treatment for dry patches of skin.
Sarrasin (Buckwheat) Honey, Vitamin E, Jojoba Oil, Coconut Oil, Essential Oil Blend (Rosehip, Argan, Camelia, Sweet Almond, Evening Primrose, Lavender, Geranium, Rose, Jasmine, Basil, Roman Chamomile, Juniper Berry, and Clary Sage)